Watch Our Video



4X Forensic Engineering Laboratories has a wide range of experience in the fire scene examination, product defect analysis.
4X Forensic Engineering Laboratories has a wide variety of computerized engineering simulation software and testing tools at hand to aid in support of opinions in the area of fire, failure and accident analysis.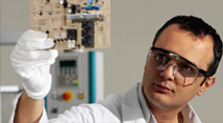 Some particular areas of expertise are Finite Element Analysis (FEA) simulation for heat transfer, fire modeling, gas flow, stress and impact analysis. The laboratory also has simulation capabilities in the area of accident reconstruction. With regards to testing the laboratory has a wide array of experience in temperature testing, strain gauge failure testing, fuel gas testing, carbon monoxide testing, water pressure testing and electronic circuit testing. More detail on these areas of simulation and testing are shown below:
Below are some of our computer simulation and testing capabilities.  If you have particular simulation or test you would like to conduct please contact our laboratory to discuss the feasibility of carrying out such work.