Watch Our Video



4X Forensic Engineering Laboratories has a wide range of experience in the fire scene examination, product defect analysis.
4X Forensic Engineering Laboratories is a full-service forensic engineering laboratory. We provide expert witness and analytical & testing services in the areas of fire & explosion analysis, water loss investigations, product defect & failure analysis and accident reconstruction.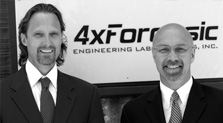 Our fire and explosion division has several years experience in conducting fire scene inspections, product defect investigations, thermal and fire modeling as well as laboratory testing of products. The water loss division has a wide base of knowledge and experience with materials, corrosion and failure analysis of plumbing and other water related products. The failure analysis division has several years experience in the area of metallurgy, product testing and finite element computerized stress analysis. Our accidents division is highly capable in the areas of automotive, construction equipment and premises liability accident and code violation investigations. If you feel that our technical expertise may benefit your claim or case analysis, please contact us because we would like to discuss your case with you to determine if our capabilities are a match for your case.